Living Room / Dining Room
Click on any of the pictures to the right to enlarge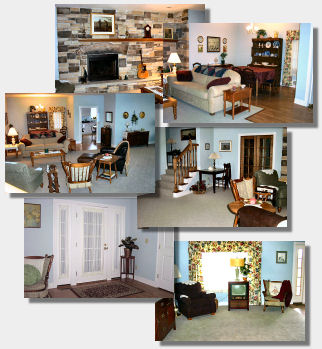 When guests enter the Taylor Home Inn, they often feel as though they have stepped back in time.
The fireplace wall is the focal point of this room. The "Angelus" hangs over the mantel and the guitar is ready for Jim Lindsey, Keevy Hazelton, Andy or Opie (or a guest) to pick up and strum. We also have a piano that our guests are welcome to play, if they have a hankering to try their hand at "Toot, Toot, Tootsie, Goodbye," or "Chinatown."
The dining room is decorated like Andy's home was. Guests are served on Blue Willow dishes, and trained noticers will observe the same artwork on the walls.
Our living room is a great place to gather--it is spacious with plenty of seating, yet it retains that cozy quality that is reminiscent of days gone by.
All guest rooms, as in the original Taylor home, are located upstairs.
Vintage furnishings bring back memories of Grandma's house to most of our visitors. One can imagine Gomer, Bee, Andy and Opie sitting down to watch "Shep and Ralph," the adventures of a man and his dog, on our vintage Zenith television.